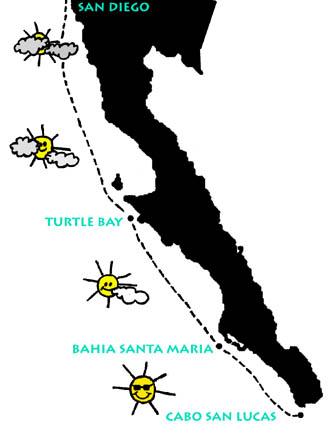 One year ago we were trying to make a decision - do we join the Baja Haha, or make the trip alone? We even wrote a
blog post about it
and our thoughts at the time.
We had heard stories about the Haha being a big, crazy party. And the trip so fast, that the schedule doesn't give you time to explore, or rest. And heck, why give $350 to Latitude 38 for a trip we were going to take anyway?
The 'crazy party' reports, oddly, were from people who had never done the Haha. Everyone we talked to who had actually done it said that simply wasn't the case. Yes, there is a fairly aggressive schedule, but that's OK - it gets you to the Sea of Cortez fast, which in our opinion is a lot better place to explore than the Pacific Coast of the Baja Peninsula anyway. And finally, $350 is cheap for all we got out of the Haha.
So what did we get out of the Haha? Here's just a few highlights.
We met dozens of other cruisers and made close friends with a number of them. We had Thanksgiving and Christmas with these folks. We buddy boated with them throughout the Sea of Cortez. We shared taxis, shopping, meals, went snorkeling, hiking, and so on. These are friends that we plan on getting together with now that we have returned to the US, and others that we look forward to running into in the future - some how and some way.
In the Haha packet is a flag. Amazing things happen when you run this flag up. We left SF Bay in early September for a leisurely trip down the California coast. By doing nothing other than flying this flag we met other Haha'ers in nearly every place we stopped - Half Moon Bay, Monterey, Port San Luis, Ventura, Catalina Island, Redondo Beach, Oceanside, San Diego, and a few others we've forgotten along the way. By the time we got to San Diego we already had met a couple dozen boats and we were sharing rental cars, shopping trips, meals, and evenings aboard each other's boats.
Since we had a teenager aboard, we weren't sure if we would meet too many other families. This turned out to be a non-issue - there are lots of families, children, and teenagers that do the Haha. Our son had no trouble making friends and finding other kids to hang out with - not just during the Haha, but for the following months as we cruised the Sea of Cortez.
Would we do the Haha again?
It's not a question of if, it's a question of when!